The weekend, the time of week to sit in a pile of leaves and contemplate life, right? But in all seriousness, like the oversized tee trend, I really enjoy being in jeans and a comfortable top. This is one of the many versions of that sort of outfit that I do wear frequently with warmer accessories for the Fall!
I'm also still learning how to pose, clearly, but I was having a fun time with this specific shoot! The tank reads "Don't be Basic" with Storm Troopers hanging out. Picked it up at Target a few weeks ago when I was down in Bellingham. Not having a Target is one of the things I don't like about Canada, but thankfully the closest one is only 1.5 hours away. When we can, we take day trips down to Bellingham to pick up things that us 'Mericans need.
Love this tank, super simple and a thin material so it's rather breezy which is where the leather jacket and beanie (or toque, whatever suits your fancy) comes into play. I'm totally into adding a beanie to any outfit for either a warmth factor or a "really didn't have time to deal with my hair" factor, which IMO is perfect for the weekend! I've also noticed the reintroduction of beanies into high fashion; meaning that adding a beanie to a styled dress and heels is definitely a style that's in right now which I both adore and can back 100%.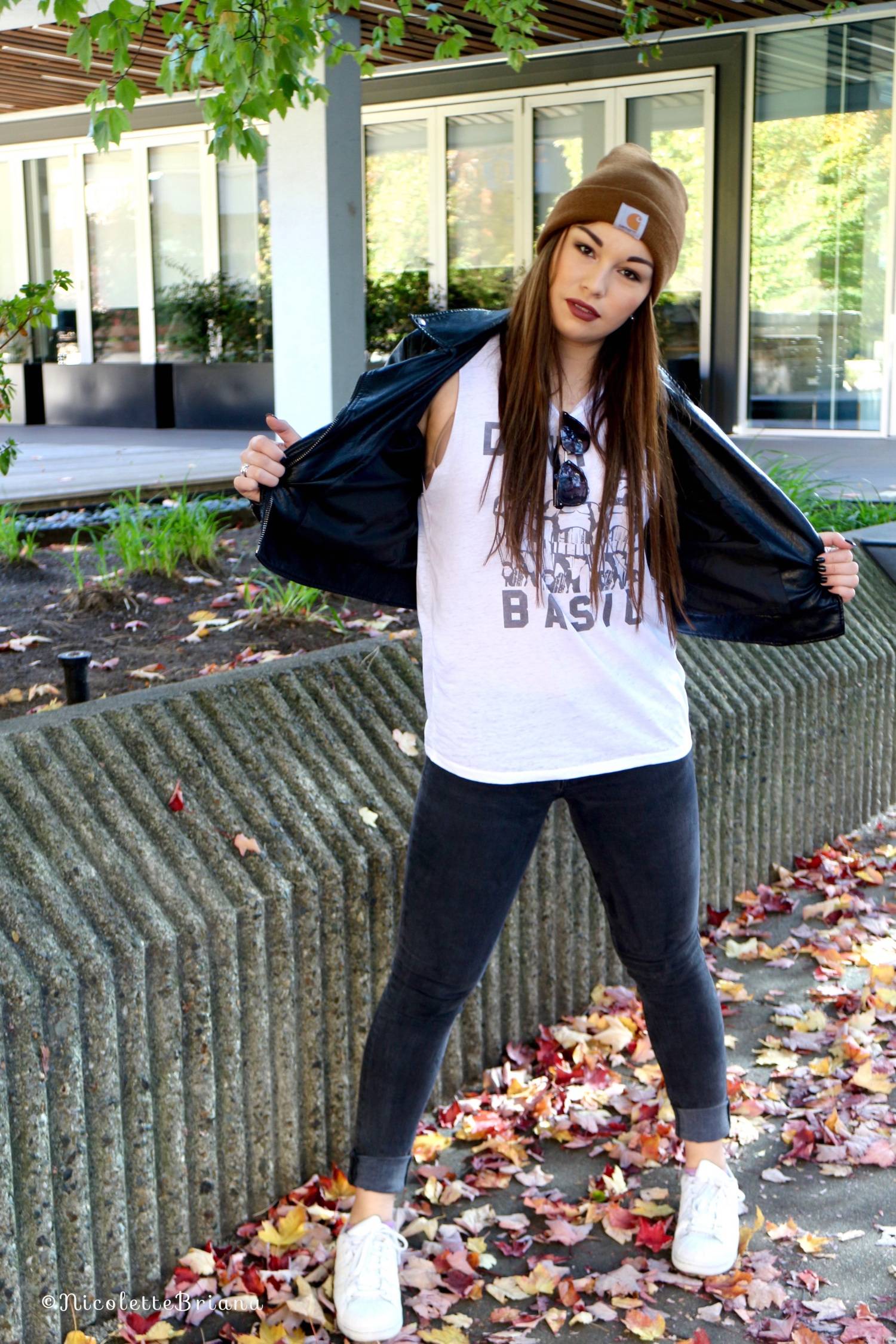 I'm also wearing basic white Adidas sneakers and they're so comfy! When I'm not in heels or booties of some sort I'm typically in these or my Steve Madden slides that are also comfy.
I'm also obsessed with this lip colour for the fall. I've linked it down below!
Buy the pieces here: Carhartt Beanie, Leather Jacket, Storm Trooper tank, Black Jeans, Adidas Sneakers, ColourPop Liquid Lipstick