During our stay in Salt Lake City, we ate at one of our favorite taco places – Taqueria 27 – and if you haven't been there, make it a point! If you love tacos, they have an AMAZING menu to choose from. They have a standard menu, but they feature a T.O.D (Taco of the Day) which we always indulge in when we visit. For this trip, the T.O.D was Slow Roasted Beef Barbacoa sitting on a bed of mashed potatoes in a taco. Yes, you heard it right. Mashed potatoes in a taco. We had to order it, I mean, right?!?! Here it is.
It was interesting. The concept of having mashed potatoes within a flour tortilla had never crossed my mind, but it worked. My mouth was bursting with  of a variety of flavors and the beef barbacoa was spot on!
When ordering at Taqueria 27, you can order tacos in sets of 2's or 4's, so both Nic and I ordered a set of 2 tacos. Their tacos are large, so 2 is definitely sufficient. The other taco we selected was the P.B.L.T.A. ~ Pork Belly, Lettuce, Tomato & Avocado with Jalapeno Mayo. Need I say more? This was amazeballs!!!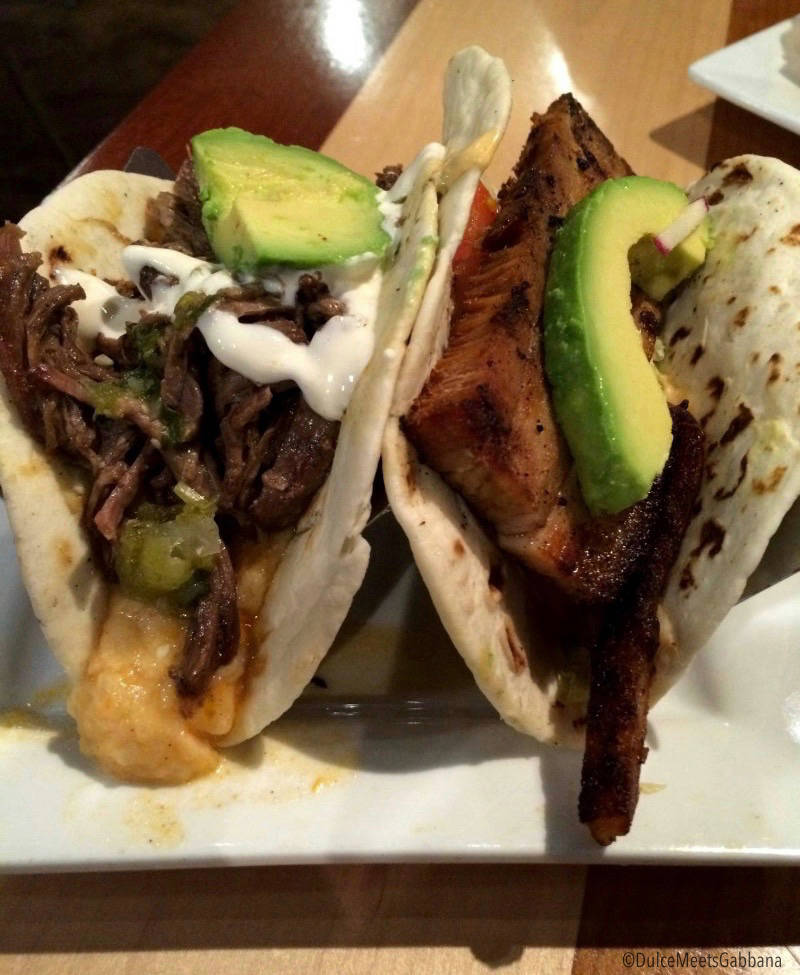 Delish, right?!?
In past visits I've also had their Duck Confit Taco, F.O.D ~ Fresh Fish Taco of the day (always, always, spot on), Citrus Pork Carnitas (always great), and their Brent Taco.
You'll definitely want to start your meal off with their homemade guacamole. They've got several versions ~ black bean guacamole, traditional guacamole with jalapeno, mango guacamole, G.O.D. (guacamole of the day), and our favorite, the roasted guacamole made with blackened sweet and spicy chilies, carmelized garlic, balsamic and herbs. Simply to die for. I could buy that guacamole by the bucket and put it on everything! Their chips are homemade as well, so you'll probably only want two tacos after devouring your chips and guacamole first! They also have a kids menu and the prices are excellent!
The next time you're in Salt Lake City, you'll have to give them a try. You won't be sorry! They've got three locations in Utah, and we dined at the downtown Salt Lake City location.
Enjoy!
Roma xoxo
Dulce Meets Gabbana dined as patrons of Taqueria 27.
You Must Try:     Roasted Guacamole, G.O.D. ~ Guacamole of the Day, T.O.D ~ Taco of the Day, P.B.L.T.A Taco, Duck Confit Taco, F.O.D. ~ Fish of the Day Taco.
Reservations:      First come, first served
Contact Details:  Taqueria 27 Downtown
149 East 200 South
Salt Lake City, Utah 84111
385-259-0940
Open for lunch & dinner.
                        Hours Downtown
Monday-Thursday………11AM-9PM
Friday-Saturday………….11AM-11PM
Sunday………………………11AM-8PM