Mexican food, hands down, is my favorite go-to meal. It's comforting, it's satisfying, but oh can it be fattening! Here is my version of Chocolate Mole that I've made with raw cacao powder, almond butter instead of peanut butter, a touch of honey and chipotle peppers in adobo sauce 🙂 Nothing makes me happier than a chunky Mole. Here's what my version looks like served over carnitas that I've been slow roasting or slow cooking all day with carmelized onions. Sooooo good! :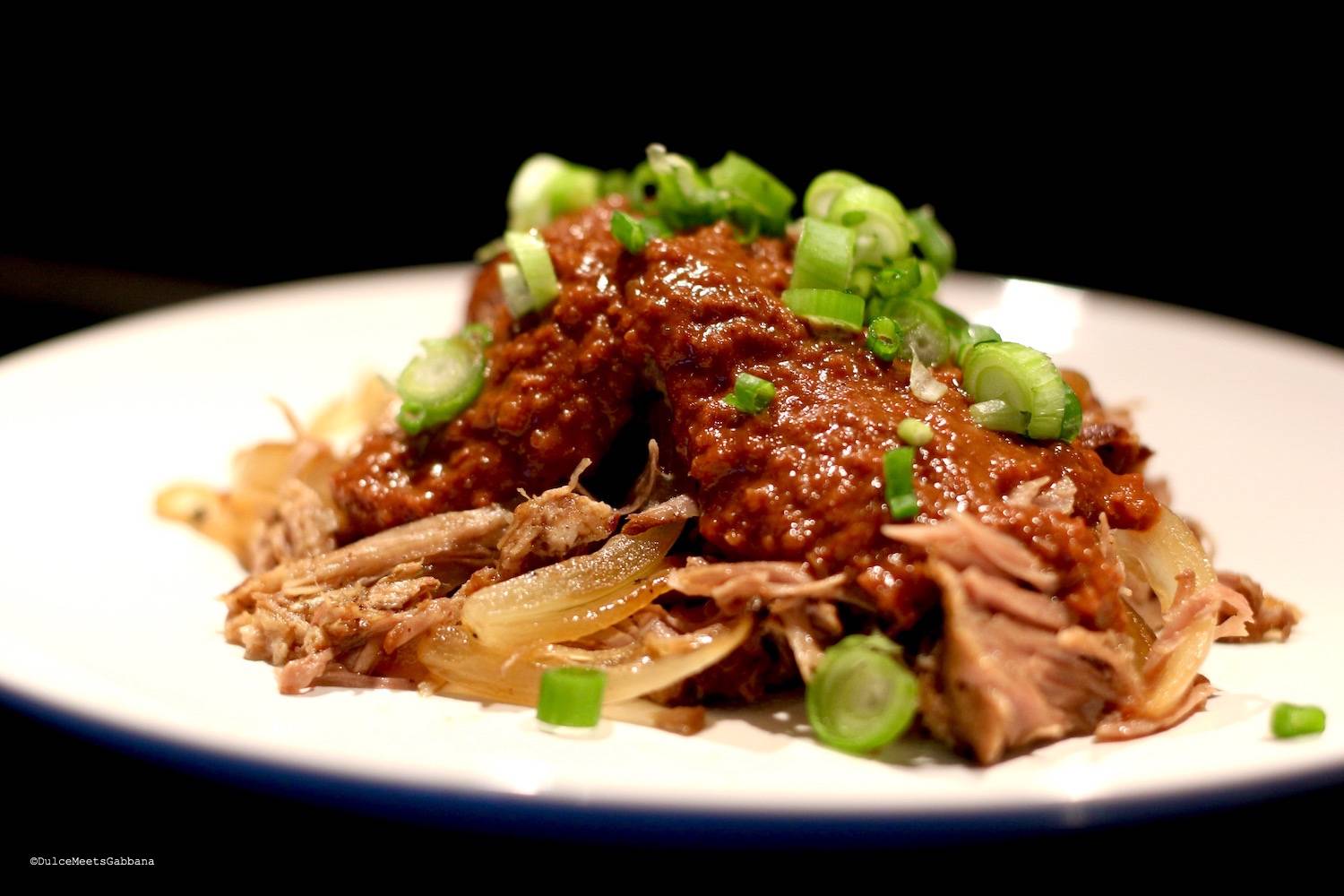 There are two restaurants that I've had MEMORABLE molé in, I mean, in the memorable way that you take to Yelp immediately to talk about how fabulous a place was. The first place was at the Red Iguana in Salt Lake City, Utah. Eric and I went there for taco's and this place is the real deal! Authentic as all get out, and if you are uncertain as to which mole you want, they bring you a platter to taste test ALL of them, I mean ALL of the moles they make in-house. Usually at a Mexican restaurant they serve molé..t.heir one molé that they specialize in, but at the Red Iguana, they have about 10 to choose from. It was amazing and mind blowing all at the same time. They really want to make sure you order the right one to accompany your meal, so I urge you to try them out the next time you're in Salt Lake City. They don't take reservations and it's a small place, so be prepared to wait for a table, or, try to visit them before the dinner rush so you can partake in their Mexican goodness! Also, my hubby said that his grandmother used to make the most amazing tacos, and the Red Iguana makes them the same way. It literally flashed him back to his childhood with mouth melting tacos, so that's another tidbit to know about their food. AUTHENTIC 🙂
The last place I've had memorable molé is at Calibri Mexican Bistro in San Francisco, CA. Amazing food. Awesome ambiance and a family run business. They DO take reservations on Opentable, so make sure you check this place out. Their molé was to.die.for and it's a very dark, almost black molé poblano with chicken. OMG. So memorable and mouth pleasing. For sure, don't miss out on this place which even has their own Mamacita on their premises making homemade tortillas served right to your table!
With that said, I have created my own easy version of Molé. Molé can be a very, very time consuming sauce to prepare, but this is a modified version that give me my fix in-between the Red Iguana and Colibri visits!
Most molés that you have in a restaurant are quite thin, but in my version I use an immersion blender and leave it chunky because I do love to taste the pieces of chili and chopped tomatoes (you can't taste the tomato flavor due to the heavy spices and cacao powder), but it certainly does add a very nice texture to it.
I love to serve my Molé over slow roasted carnitas with carmelized onions…I mean, it's got the best flavor, moreso than serving it over chicken, but another way I use my molé is to slather it over a tray of chicken enchiladas. Damn delicious!
I hope you enjoy this recipe as much as we do. You can make it less spicy by just adding 1 chipotle pepper rather than the 2 that I use, and you can also slice the pepper open and remove any seeds inside for a more mild version as well. Olé, olé!!!