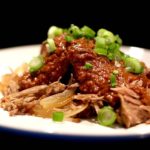 Servings

Prep Time

8

1/2 cup servings

20

minutes
Servings

Prep Time

8

1/2 cup servings

20

minutes
Servings

Prep Time

8

1/2 cup servings

20

minutes

Servings

Prep Time

8

1/2 cup servings

20

minutes
Servings:
1/2 cup servings
Add the oil to the pan along with the chopped onion and garlic. Saute for 5 minutes on medium to high heat.

Chop the tomatoes and add them along with the raisins. Chop the 2 chilies from the can and add the teaspoons of adobo sauce.

Add the bouillon cube and 2.5 cups of water along wit the chili powder, cinnamon, salt, pepper and cacao powder.

Add the honey and the almond butter. Incorporate all the ingredients and cook on medium for about 15 minutes.

Add your immersion stick blender and turn on to low, pulsing in and out of the sauce until you get your desired consistency. Less for more chunky, or more for smooth. If you prefer, you can add to a large blender or food processor to blend if you don't have an immersion stick.

Once blended (if out of the pot, return to the pot), then turn flame to low and cook another 5 minutes. Continue to taste test and add more cacao powder if you wish, or honey or chili powder. It's really up to your palate to determine if it needs to be sweeter or more bitter. Enjoy!
Nutritional content: 10 servings. Serving size, 1/2 cup (121g) Calories: 152, Fat: 7.2g (Saturated fat 0.9g), Cholesterol: 0, Sodum: 29mg, Potassium: 328mg, Total Carbohydrates: 21.8g, Dietary Fiber: 2.1g, Sugars 14.7g, Protein 3.0g, Vitamin A: 11%, Calcium: 4%, Vitamin C: 14%, Iron: 5%